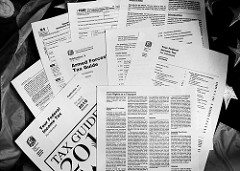 by
U.S. Army Korea (Historical Image Archive)
A new program designed to assist homeowners facing pre-foreclosure has been created in the latter part of November. This program, as with many mortgage assistance programs is supposed to improve the foreclosure crisis through Fannie Mae and Freddie Mac by purchasing bad mortgage loans, and then refinancing those homes to homeowners.
President Bush signed a similar program earlier this year. This one was supposed to assist many homeowners facing foreclosure, to stay in their homes.
In the past few weeks, I have received numerous emails from subscribers enquiring about mortgage assistance programs. The housing rescue law program especially, because they are not familiar with this new program. This new program claims to help homeowners who may not meet the qualifications for assistance in other programs. Is there anything in the small print they need to know?
Like other mortgage assistance programs, this bill supposedly alleviates the struggling housing market; but the truth is that this bill is aimed to boost the mortgage finance giants, Fannie Mae and Freddie Mac before they required to be bailing out by the Government and not for the homeowners who need it the most.
In addition, if by chance, you happen to qualify, and pass the rigorous scrutiny, and are approved for an FHA backed home mortgage loan, there are numerous things you should be aware of, so bone up on your reading, because it is very likely that they will disclose all the information pertaining to this agreement in the small prints.
In many cases, people would be better off letting their homes foreclose, renting for a couple of years, and then starting over with a fresh property when the prices of homes begin to fall. This is the primary reason many mortgage assistance programs are ineffective, among other things.
On another note, lenders will not sign off on a workout, if they suspect they will loose more money on that, than they would by permitting a home to go through the expensive process of foreclosure, which is the same scenario with many other mortgage assistance programs.
An FHA lender will underwrite each loan separately. This means that the banks will have to investigate and verify income, bank accounts, employment histories, and credit ratings. It will be as if you are applying for a new mortgage loan, and will have to meet all the credit requirements in order to qualify.
This is a volunteer program for lenders, so if the lender of origin agrees to the write-down, a new lender will buy the old loan, and take possession of the re-written mortgage. How does it work? How much does it cost? What is the catch? Let me elaborate.
Due to space limitations, I cannot finish this article here, because the second half contains much more information about these mortgage assistance programs. Go to my website, and scroll to the bottom of the page, there will be the second half of this article.
But keep in mind, no matter how much money you earn, or what your current situation is, or which phase of foreclosure you are facing, it is still possible to avoid foreclosure for over two years, and remain in your home without making a single mortgage payment.
The best part is that you will not have to retain the services of an attorney to do this, once you know how to do it yourself.
Find More Mortgage Assistance Articles